Kochia Carnival at Hitachi Seaside Park
Kochia Carnival at Hitachi Seaside Park
Saturday, September 15 to Sunday, October 21, 2018 
※Every day open during the event season (Wednesday, September 19 to Wednesday, October 31)
Sunday, September 30 and Sunday, October 21 are special days and admission is all free.
Monday, September 17 is Respect-for-the-Aged Day (public holiday), so age 65 and older are free.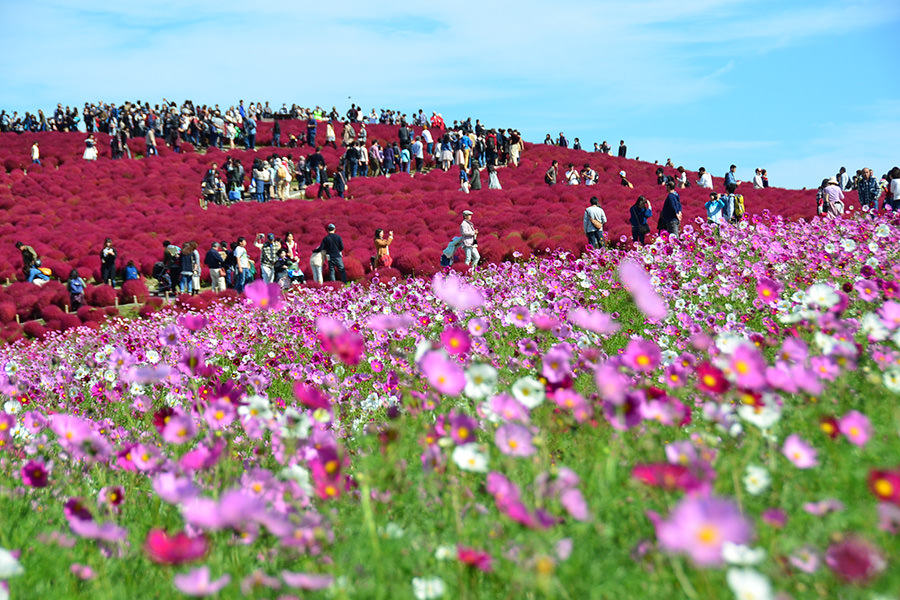 Hitachi Seaside Park features the red Kochia plants in autumn, after a period of time since the blue Nemophila flowers in spring.
Kochia plants on the Miharashi-no-oka hill have been growing day by day even during this scorching summer, and it is September when the hot days are over and the kochia begin to turn red gradually from green.
In mid-October, the red autumn foliage of kochia will cover the entire hill. The view is really amazing and photogenic.
Lots of people from all over the world visit Hitachi Seaside Park to enjoy the autumn view, for the same reason as the nemophila flowers in spring, of which scenery has been getting popular among overseas tourists.
What date is the best to see the beautiful red kochia differs a little every year depending on the weather. However, the other kochia scenes, where they shape in gradations green and red and they are brownish red which looks shiny-gold in the sunshine after the peak season, are also wonderful.
On the foot of the hill, the cosmos flowers swing in the autumn breeze, which goes well with the red kochia.
Various kinds of events are held during the Kochia Carnival.
The events include various kinds of elements such as music, Japanese cultural experiences as well as flowers and plants.
About Kochia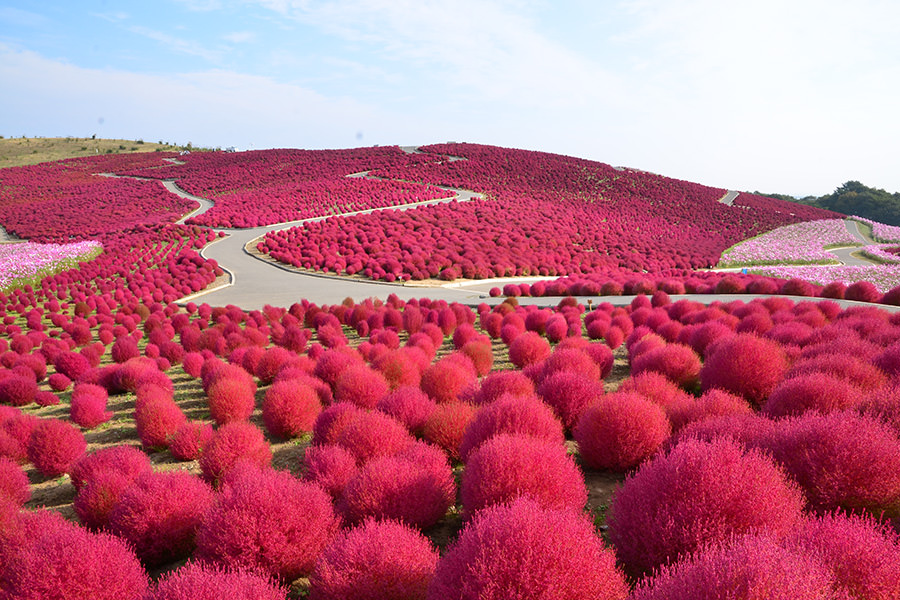 1.9ha / 32,000 plants
Kochia is called 'hokigusa' in Japanese and people used to make a broom from its dried stems
Its nutlets ('tonburi' in Japanese) are edible, though the kochia plants in this park are grown only for viewing.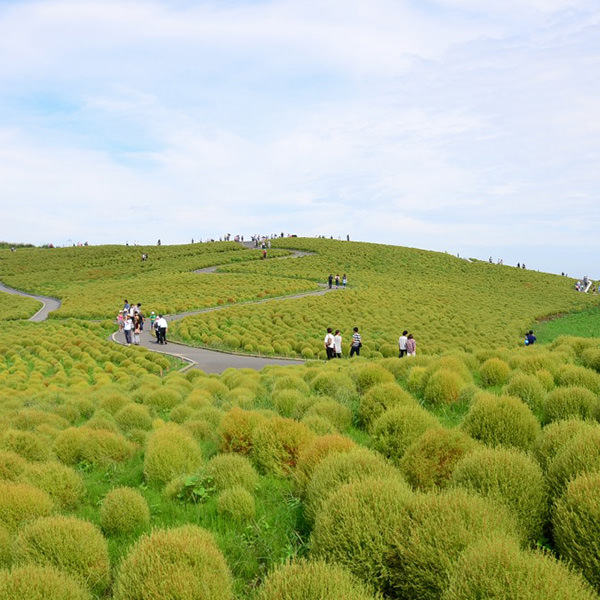 green
from early July till late September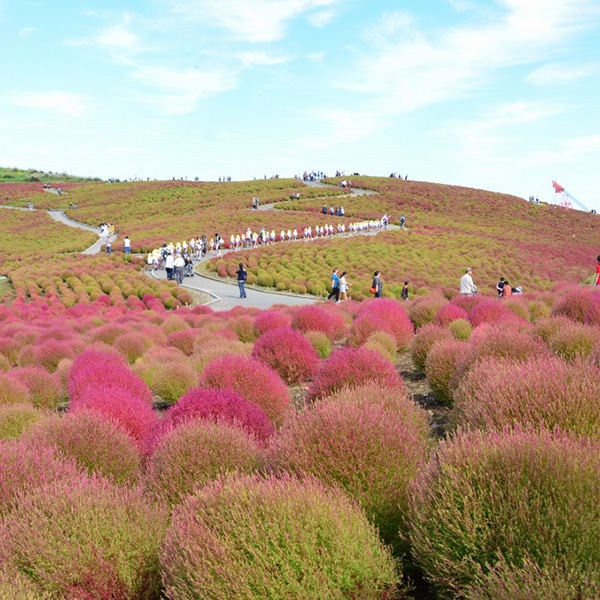 gradations of green and red
early to mid-October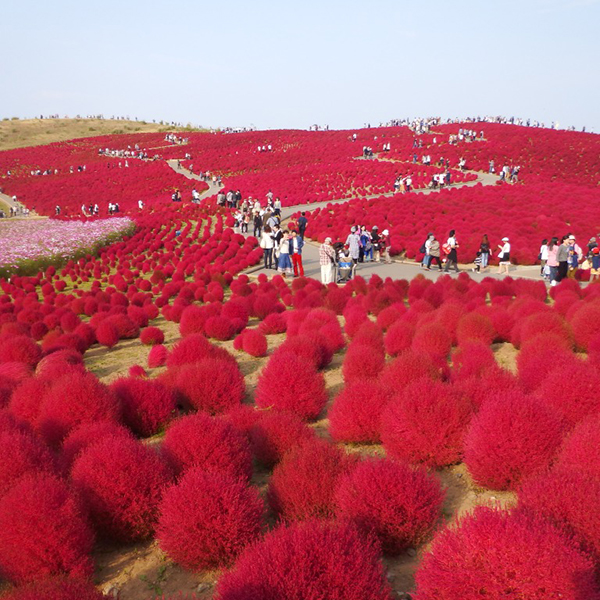 red
mid-October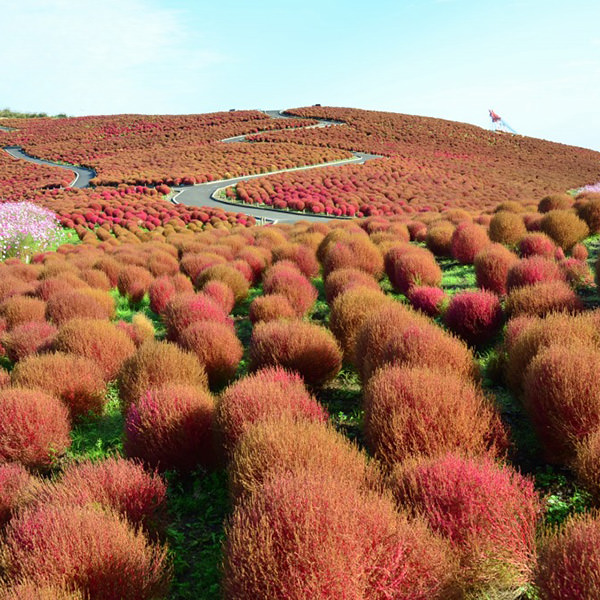 brown (shiny-golden color)
late October
Love Flower Project
Flowers heal our hearts.
We would like to share the feelings of cherishing flowers with as many people as possible.
We would like to make our park filled with flowers and your smile.
These are our hopes.
If you agree with us, please attach a hashtag below to your SNS photos.
#hitachibloom
Information
Venue
Hitachi Seaside Park
605-4 Aza Onuma Mawatari, Hitachinaka, Ibaraki
Opening hours
9:30〜17:00
Closing days
Every day open during the event season (Wednesday, September 19 to Wednesday, October 31)
Usually, Mondays are closing days.
Admission

Individual (figures in parentheses are for groups)
Adults (age 15 and over): 450 yen (290 yen)
Elderly (age 65 and over): 210 yen (210 yen)

2-day tickets

Adults (age 15 and over): 500 yen (350 yen)
Elderly (age 65 and over): 250 yen (250 yen)

*Junior high school students and younger are free.
A group consisting of 20 people or more is applicable for discount. (Any people of young and old ages can be included in a group.)
*A 2-day ticket can be used on the day of purchase and the next day by the person who have bought it. The ticket cannot be used in another park.
*Monday, September 17 is Respect-for-the-Aged Day (public holiday), so age 65 and older are free.
*Sunday, September 30 and Sunday, October 21 are special days and admission is all free.
Parking fees
Large vehicles (buses): 1,550 yen Regular vehicles: 510 yen Motor bikes: 260 yen
Access
By car
Approx. 1km from Hitachi Seaside Park IC on Hitachinaka Expressway via Hitachinaka IC on Kita-Kanto Expressway
By train
Take a bus in front of Katsuta Station on JR Joban Line
Inquires
Hitachi Seaside Park Office
TEL: +81 (0)29-265-9001
FAX: +81 (0)29-265-9339